If you have a B2B software company, you know that the most important thing you can do to improve sales is to build relationships. You are probably working on a dozen long-term relationships right now, hoping to be able to convince decision-makers that your software is the right answer for their needs.
So why should you worry about SEO? 
Search engine optimization is about being found on Google by people who are actively searching for information about your industry. What you might not realize is that often prospects searching on Google are further down the funnel — in fact, they might be ready to buy today.
What is B2B SaaS SEO? Why should you use it? Here's what you need to know. 
What is B2B SaaS SEO?
Search engine optimization is a way of attracting organic leads based on terms and phrases they enter in search engines, especially Google. SEO for growth is a great way to manage your company, whether you're established or a growing startup. 
The right SEO marketing strategy will help you attract the right customers at the right time. Unfortunately, too many B2B SaaS companies rely on paid customer acquisition, which costs far more and is less effective than SEO.
Does managing your own SEO sound overwhelming, especially given everything else you need to do for your business? We understand. Everyone, especially small companies, struggles with keeping up with marketing while also serving their customers.
That's why we're here to help. You can contact us for B2B SEO services anytime. 
1. B2B Clients Are Looking For You Online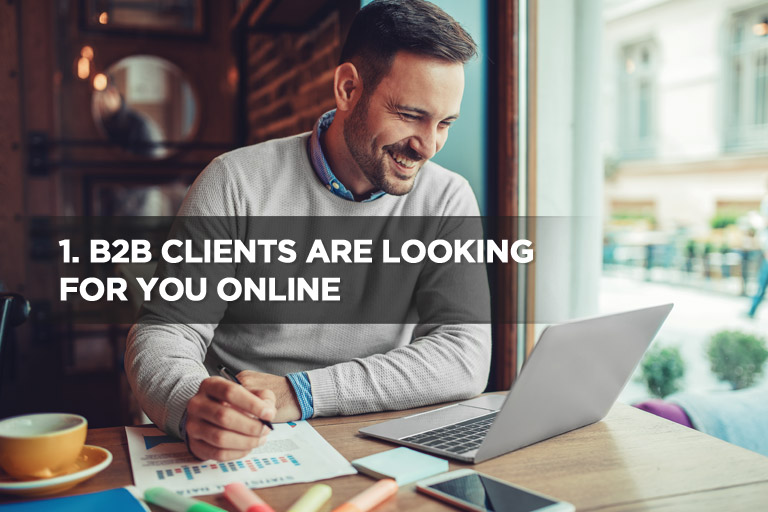 Did you know that at least 70% of B2B clients start their search for solutions online? They start at the top of the funnel, seeking information about possible software options. But the providers they learn from early are the ones they are likely to trust when it comes time to buy.
B2B clients, even more than today's savvy consumers, are focused on research before they contact a company for a demonstration. They'll do even more research before they sign a contract.
When your B2B search engine optimization is effective, it will be easy to find you online. Even better, your Google My Business page is a key part of your SEO, and it includes reviews and other relevant information about your business.
2. SEO Helps You Attract a Very Targeted Audience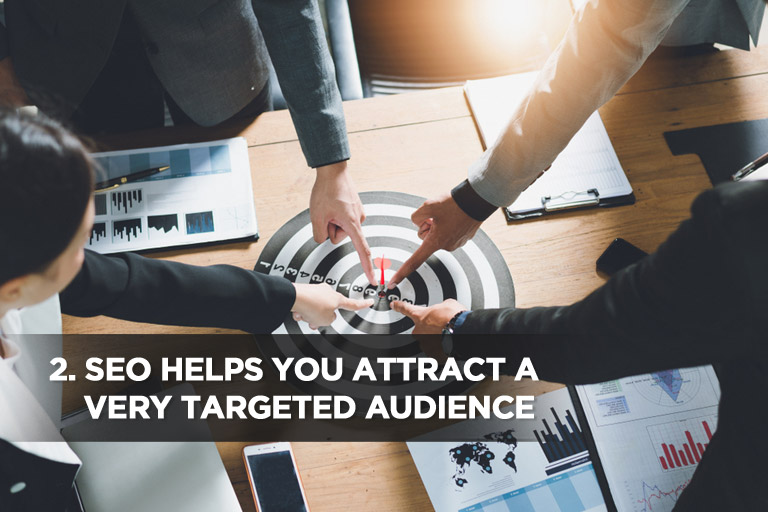 You might think that Google search can't help you attract your exact target audience. After all, don't you need targeted ads on social media to do that?
Absolutely not! 
SaaS SEO connects with prospects based on the keywords they enter. These keywords are very effective at segmenting the audience for you. For instance, if someone is looking for "accounting software for manufacturing", that's a perfect lead for a SaaS company that offers accounting solutions for manufacturing clients.
As a result, when you optimize your website with the right keyword phrases, especially long-tail keywords, you'll attract the exact audience that's looking for what you offer. The goal is to rank on page one of Google for the keywords your customers are already using, so you can get their attention exactly when they need you.
3. Paid Customer Acquisition is Unsustainable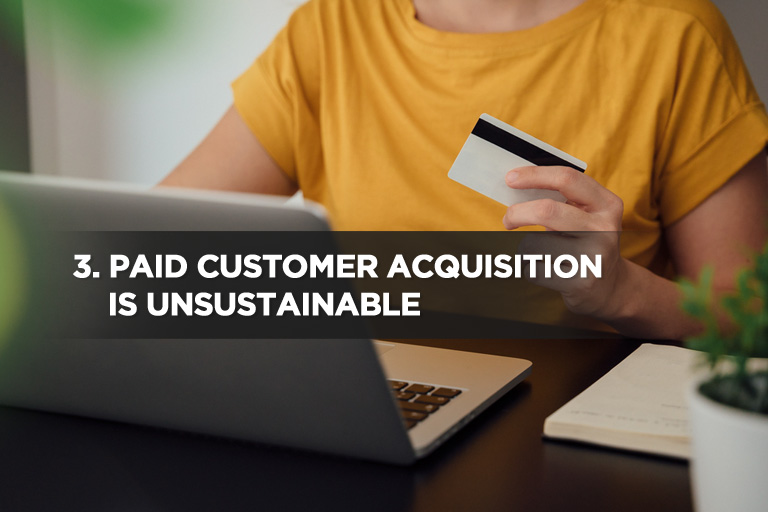 Many SaaS companies turn to paid performance marketing, such as social media ads or PPC, to rapidly scale with new customers. However, that's both expensive and unsustainable. When you pay for attention, you lose your platform as soon as you stop spending money.
On top of that, when you use PPC or other paid advertising, you're interrupting people instead of attracting them. That means that you pop up in the middle of them doing something else. That's frustrating, and you're not likely to encounter your ideal leads when they are actively looking for what you offer.
Finally, SaaS strategies that focus on paid ads require you to exist on someone else's platform. You don't make the rules and the platform can change things at any moment. The most important thing that changes? The price — and it always goes up.
SaaS growth through paid customer acquisition is unsustainable and hurts the profitability of the company. That's why SEO for your B2B company is so important.
4. SEO Keeps Customer Acquisition Costs Lower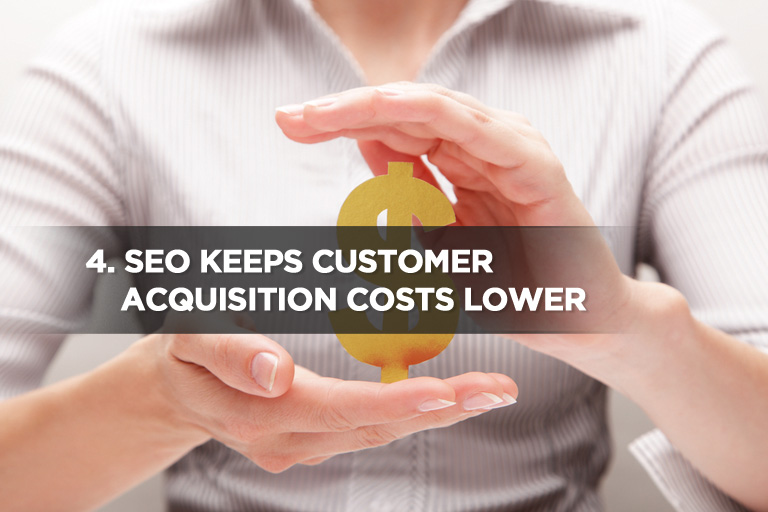 Compared to paid avenues, SEO helps you keep your customer acquisition costs in check while giving you consistent, targeted growth.
With SEO, you own the platform. You can say what you need to say, using whatever combination of text, video, and images are most effective. You don't have to abide by the rules of others, and most of all you don't have to pay for attention! 
Instead, you set up your website to be attractive to someone exactly when they need what you offer. They'll encounter you when they want to, not as a result of an interruption. Best of all, they are highly likely to connect with your message because they are actively looking for it. 
With SEO, you not only have lower acquisition costs, but you also have a far better conversion rate and bring in leads when they are the most interested and ready to buy. Your SaaS SEO platform is the foundation of consistent, ongoing growth for your business.
5. Great Content Wins Customers and Ranking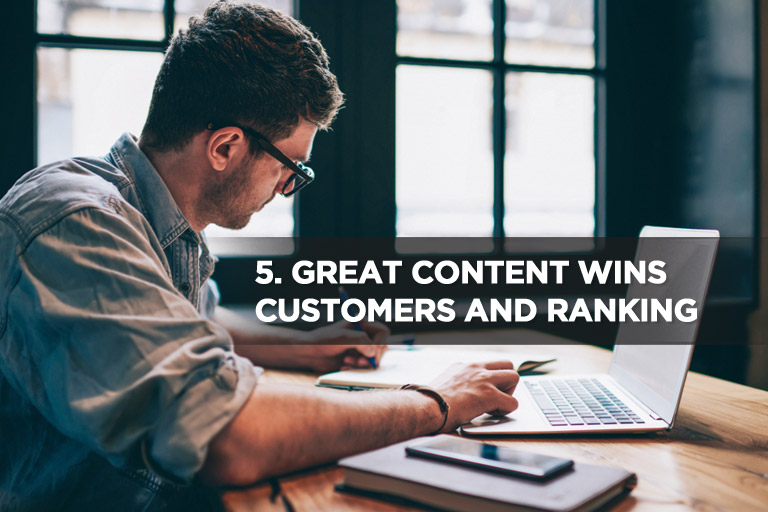 One of the biggest reasons that someone is searching for information about your software solution is that they have a need you fill. Explaining to prospective customers that you understand their needs and can help is a key part of making the sale.
With SaaS SEO, you have the opportunity to create highly relevant, helpful, and informative content for your website. Customers and prospects will both benefit from this information. You'll be building your relationship with leads and moving them further down the funnel.
What you might not realize is that this content is a win-win, because it also helps you rank more highly in Google search results. Google is focused on presenting users with the most relevant answers to their queries, and high-quality content is exactly that.
You need informative content on your website anyway, to help prospective customers learn more about you and your solutions. When you take the extra step to optimize these articles for the right keywords, you'll do well in search results while also reaching the exact audience that needs the information.
6. Evergreen Content Compounds Growth
With paid customer acquisition, you need to constantly pump money into making sure your ads are seen each day. With SEO, you don't. Instead, you can create a single piece of evergreen content and its impact will grow over time.
Not only will you be bringing in new leads when you first publish it, but this helpful article will also continue bringing in new customers over time. As the content is shared, it will reach new audiences and you'll see even more traffic. 
And that's just one piece of content. The more quality information you create, the more traffic you'll drive. Remember, this isn't just any traffic, these are targeted leads that want what you offer today!
As you create and promote evergreen content, you'll not only get shares, you'll get inbound links from other sources too. This will increase your traffic even more. Over time as you apply this to different keyword groups, you'll be able to drive very specific organic traffic at very low costs.
7. SEO is Part of an Excellent Marketing Mix
SEO isn't a standalone strategy for most companies. Most B2B web ventures use a marketing mix, and SEO is one of the foundational approaches. These companies understand that SEO can help traffic that comes from other sources convert and become a customer.
Content doesn't just help you rank well for target keywords. It also helps you persuade visitors from social media that they should take your software for a test drive. Content can also be an important part of your email marketing and can give you a nice landing spot for an initial paid ads investment.
High-quality content that is optimized well is a key part of your overall marketing strategy. You need to not only attract leads, but you also need to showcase that you understand their problem and can solve it. Optimize that same content for keywords and you have a powerful tool in your marketing arsenal. 
8. Great Content Helps You Secure Funding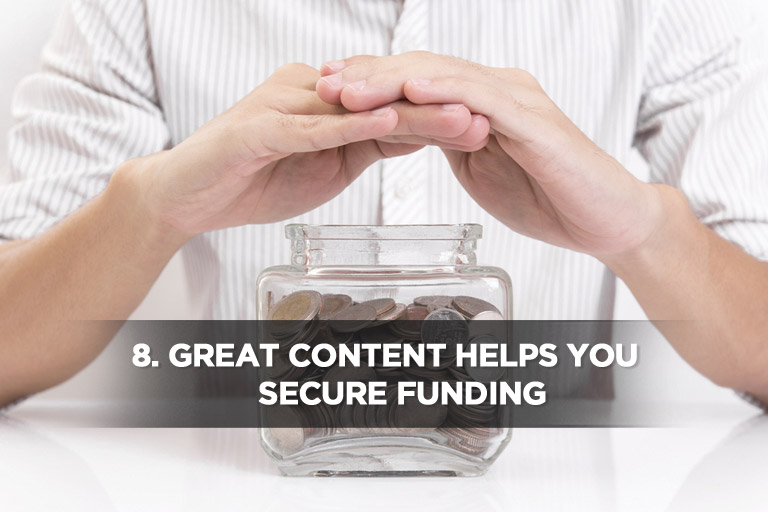 You might not think about it immediately, but your potential funding sources are also important customers. When you are easy to find online and your content is optimized appropriately, your potential funding partners can quickly see that you're relevant and active in your industry.
If you haven't earned that search ranking, your funding partners might wonder if you're truly committed to long-term success. After all, they know as well as anyone else that you can't just buy customers forever. You need organic sources for leads and revenue.
When you have a website that gives you an excellent user experience, you don't just wow your customers and Google. You also make a great impression on potential funding partners as well.
9. You Don't Have to Go it Alone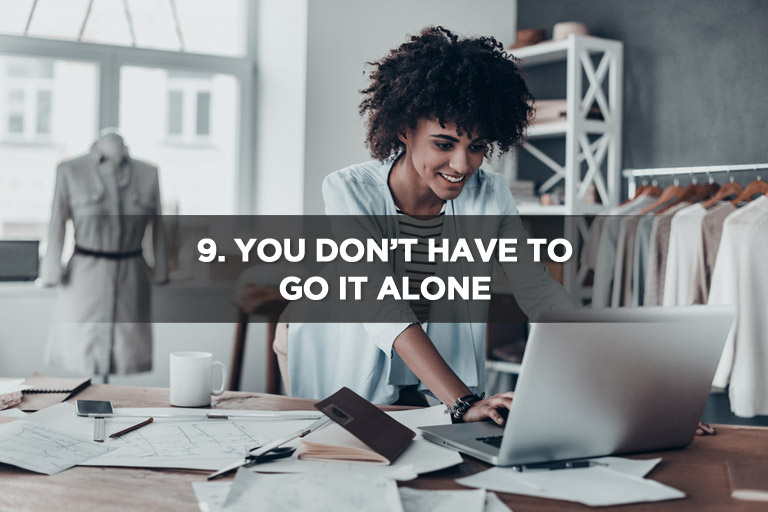 Whether you're established or are running a startup, you have plenty to do. You don't need to also teach yourself an entire additional industry, which is exactly what SEO marketing is. Google makes algorithm updates almost daily and makes significant changes to ranking several times a year. 
Creating and optimizing your content and website is something you can hand off to professionals. Here at Local SEO Search, we're proud to be a top B2B SEO marketing agency. We've worked with SaaS companies to help them acquire customers affordably and scale their business.
You don't have to go it alone. Let us help you with your SEO marketing so you can focus on what you do best — providing top-quality software solutions for your customers!
Are You Ready for B2B Search Engine Optimization?
If you haven't started with B2B search engine optimization, there's no time like the present. Your competitors are up and running, and you can't afford to be left behind. It's important to reach out to us right away to get a strategy in place.
If you are using B2B SEO but you're not getting the results you need, it's time for a change. Local SEO Search knows how to bring in not just traffic, but the exact targeted traffic your business needs.
If you want to impress potential clients, Google, and your potential funding partners, high-quality content is a must. Not only that, content is an important linchpin in your overall sales process. Having a fully optimized website will help you rank well in Google while also helping you close deals that come to your site from other sources.
Contact us today for a free consultation — we're ready to help you grow!