As a small business owner, your website is your online storefront. You put a lot of thought and effort into your physical store, thinking carefully about signage, layout, and branding. 
It's essential to put the same care into your website design. Studies show that 94% of a visitor's first impression is based on the design of the website.
Fortunately, there are a lot of tools available to help you. Great web design no longer requires you to have a tech degree or understand website coding. Instead, you can use website builders to DIY your website, or choose a professional marketing agency to partner with for a website redesign.
What do you need to have to ensure a successful website? Here is a checklist you can use.
1. Choose Your Domain Name & Hosting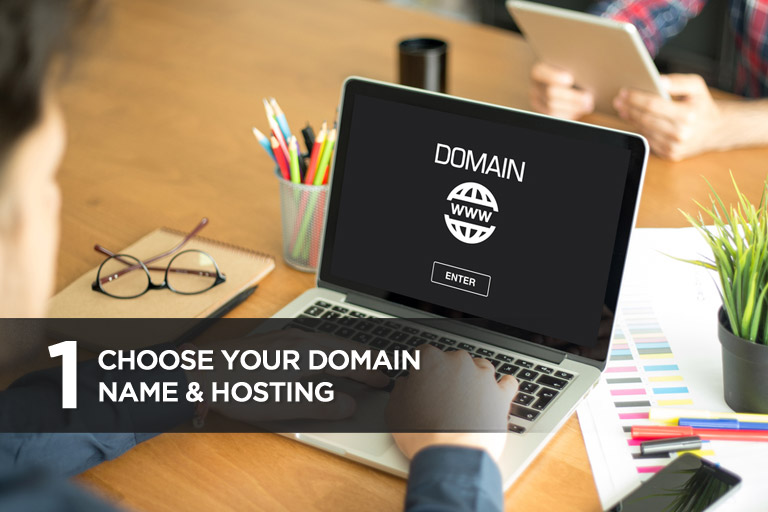 Your domain name is the website that people enter when they want to go directly to your website. It's best to use your company name, although some businesses use keywords related to their business instead.
If your business name is Accent Plumbing, the first idea for a domain name might be accentplumbing.com. If that's not available, you might try a variation that includes your city or area. For instance, accentplumbingtoronto.com.
Having your city or neighbourhood in your domain name can help you do well in Google search results when people are looking for services nearby. Often, they'll do a local search that includes a geographic area. When you match that area, you'll be more likely to be on page one.
Once you've chosen a domain name, you'll need a company to host your website. Essentially, they maintain the computer systems to ensure your website is available to the public. Your hosting company will maintain your website data and may also provide a web design builder you can use to create the website.
Sometimes the same place you buy your domain name offers hosting, such as GoDaddy. Before you move forward with them, though, it's helpful to compare options with other hosting sites, like Siteground or Bluehost.
Once you have your domain name and hosting account, it's like you've chosen your business' address and poured the foundation for your store. Now it's time to build your website.
2. Choose Your Website Layout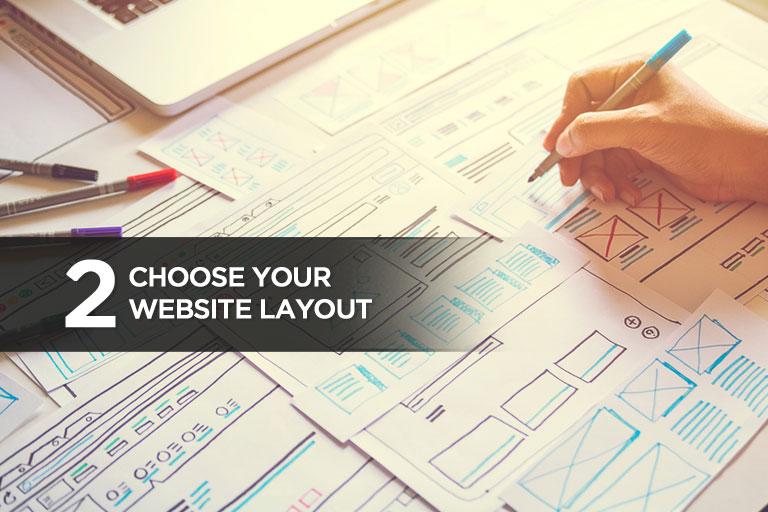 Now you have a website! You're probably asking yourself, "How do I design a web page?"
The first step is to decide the overall "floor plan" of your website. There are a variety of layouts available, and many are free. Others are inexpensive, and some cost quite a bit.
If you've chosen to use a web builder tool provided by your hosting company, you'll be limited to the layouts they offer. To get more creative, consider installing WordPress on your website. Once you do, you'll be able to choose from over 10,000 website layouts, known as Themes.
Many times there are themes that are already created with specific industries in mind. Taking advantage of these pre-designed layouts can save you a lot of time. You can customize specific elements to fit your brand. 
However, if you're more creative, you can choose a more general theme and add the graphics, colors, buttons, and more yourself. However you do it, keep your customer in mind. Everything should be intuitive and easy-to-navigate.
If you don't want to design your website yourself, that's certainly understandable. Web designing isn't easy. Instead, partner with a reputable web design agency who provides web design services.
3. Make Sure Your Website is Optimized For Mobile Devices
When you pull up a website on your cell phone, you might notice that it looks different than it does on your computer. The website adjusts the layout to fit your smaller screen, which is known as being mobile-optimized.
Having a mobile-optimized website is essential, especially if you want to do well on Google search results. Google specifically ranks mobile-friendly websites higher than those that are not created this way.
Fortunately, most website builders already include mobile optimization. In most cases, you won't have to do anything extra to have your website resize automatically for a smaller screen.
However, you do need to keep small screen sizes in mind when you design your website. Make sure that your menu bar isn't too crowded on a cell phone screen, that it's easy to tap buttons, and that your text is still readable.
Mobile devices currently account for 54% of all web traffic, so you can't afford for your website to be awkward, slow-loading, or impossible to use on a smaller screen.
4. Include Your Branding on Your Website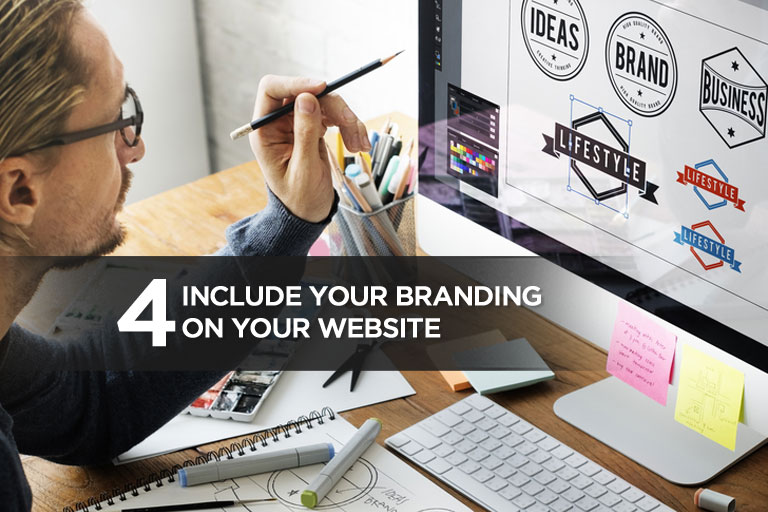 Do you have a specific logo that your business uses? Is there already a colour scheme on your brochures or the signage in your store? 
If so, you want to continue that same branding on your website. The homepage should clearly state your company name and the value you offer. Often businesses put their logo at the top left of the website and have a banner at the top of the website that gives their primary customer benefit.
The goal of the homepage is to capture the attention of the visitor while making it very clear why they would benefit from your product or service. You only have a few seconds to get someone's attention online, so make the most of it!
You can then continue your colour scheme throughout the rest of your website, on your service pages, your blog, and more.
5. Create Easy to Use Navigation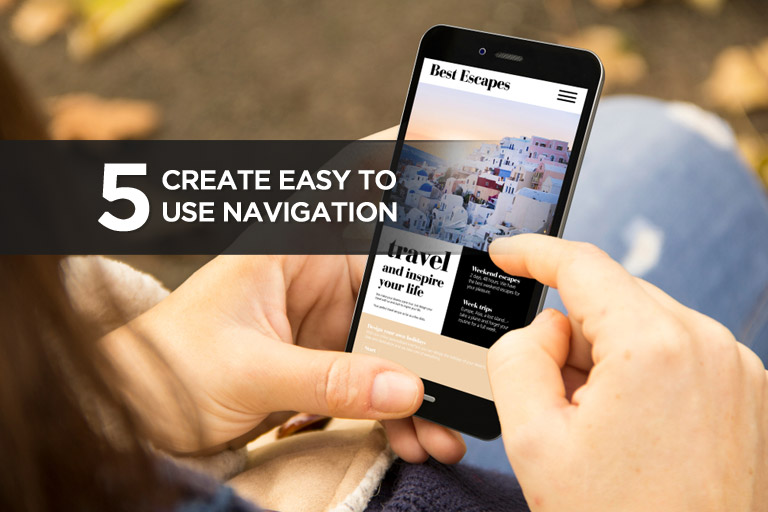 If you look at small business websites, you'll notice that the menus tend to be similar. You'll find a menu across the top with options to view services, a blog, a page about the company, and a contact page.
You might feel the need to shake things up a bit, but don't stray too far from what customers expect. Being predictable is part of being trustworthy in most consumers' eyes. You don't want customers to have to search the page to find a link to your services or contact page, because most won't do it — they'll just find a different provider.
Navigation should be intuitive and easy to use. In general, each menu option has a variety of sub-pages. For instance, if you run a hair salon, your services menu might open to show a list of your services, each with their own page on the website. Things like cut, style, colour, and other cosmetic services can show visitors what you do at a glance.
When someone clicks on a specific service, they should land on a page of your website that is specifically about the value and benefit of that service. You can describe more about how the service works and you might decide to include the cost as well. 
By using the menu, visitors can easily navigate around your website and learn more about who you are and what you offer.
6. A Call to Action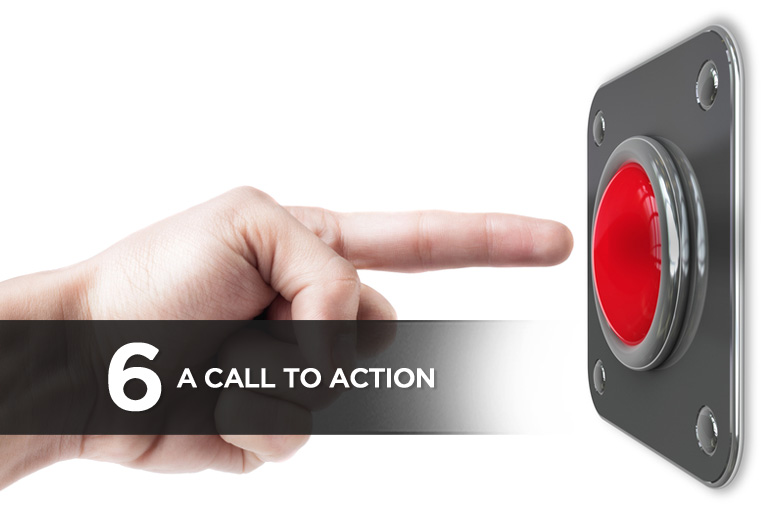 Once someone sees your service page, home page, or blog post, what should they do next? 
The invitation to take the next step in the buying process is called a "call to action", or CTA. Having a strong call to action has been shown to improve conversion rates and boost sales. Unfortunately, as many as 70% of small businesses don't have a CTA on their website.
Simply inviting the customer to call you, book a demonstration, or sign up for your email list can make a huge difference in your results. A call to action motivates someone to move forward in your sales funnel. 
You'll want to make sure your CTA makes the benefits of taking action clear. Instead of simply saying "Call!", you want to make a concise statement about why they should call. If you're a lawn care company, that might be, "Get a great lawn today!"
When someone enjoys your web content and wants to connect with you, they look for the call to action. A link that makes it easy to connect with you, or a phone number to call right away, is the perfect answer.
If you're having trouble thinking of strong call to action statements, consider working with a website designer who has experience in marketing.
7. Create a Blog
A blog allows you to share useful content and information with your audience. Over time, this information builds trust and sets you up as the expert in your field. 
People want information long before they are ready to buy. If you own a plumbing company, you might have someone looking for tips on clearing a clogged drain. A blog post gives you the perfect opportunity to add value by giving some DIY tips, followed by an invitation for them to call you if they need additional help.
A blog also helps you have regular fresh content, full of relevant keywords, so you can rank well on Google search results. It's a great way to organize your content and can give you opportunities to link to your service pages, products, and more.
Blogs give you a chance to create content in a variety of formats — written, video, audio, and images — that engage your audience and help keep them interested and connected to your business. If you struggle with the idea of creating content on a regular basis, consider a web design company that includes content creation as part of their search engine optimization (SEO) package.
8. Connect Your Social Media to Your Website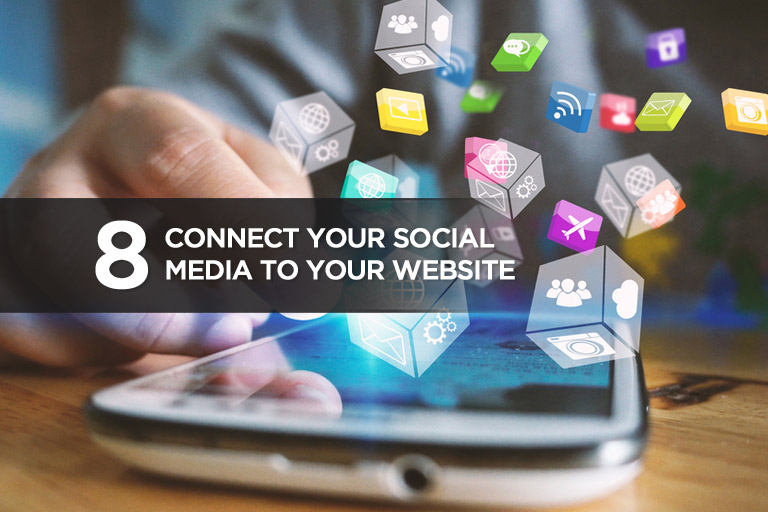 Once you have a great website, you want to amplify it. You need people to discover it in as many places as possible. When it's well-optimized, you'll get a lot of organic traffic from Google search results. But why stop there?
Almost all web design courses recommend making it easy to find your social media accounts from your websites, and easy to find your website from your social media pages. Linking the two will help your fans find more information about you, and can help build the size of your audience.
Think about where your ideal customers spend the most time online. A platform like Facebook is an obvious choice, but some small companies would also benefit from being active on Instagram or TikTok. A B2B company will want to have a strong presence on LinkedIn. 
Your Home, About Us, and Contact pages should all include links to your social media accounts. Each blog can also include buttons that make it easy for your fans to share that content to their own social media accounts. Social sharing can bring in a lot of word-of-mouth customer recommendations.
Once your social media and website are integrated, you'll be able to share traffic between the two and magnify your overall brand image and influence online.
Are You Ready to Design Your Website?
When you take the steps listed above, you'll end up with a well-designed, branded website that will represent your company well. From choosing the right domain name to connecting your social media, each element of web design is essential to engaging your audience.
Many business owners, however, are swamped with other work. Between maintaining their business, spending time with their family, and getting at least a few hours of sleep, they don't have time to create a website. That's where professional web designers can help. 
Web design services from Local SEO Search give you a variety of options for a high-quality branded website. We also provide SEO marketing services to help you put your website to work so it brings in high-quality leads and ready-to-buy customers every day.
Interested in learning more? Contact us today!